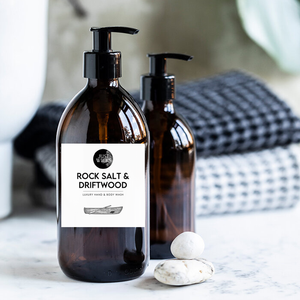 Rock Salt & Driftwood | Luxury Hand & Body Wash
A mesmerising floral marine scent where refreshing notes of seaweed and green algae lie in cool rock pools livened by a fresh coastal breeze and enhanced by touches of cyclamen and water lily. At the base of the fragrance, sparkling salt crusted driftwood is warmed by amber, patchouli and musk.
Our refreshing hand and body wash gently cleanses and deliciously scents your skin, leaving you with a beautiful soft glow and a remarkable fragrance.
Perfectly decanted into 500ml amber bottles with black pump lids, these will lend themselves to any environment in your home.