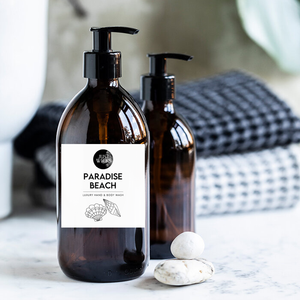 Paradise Beach | Luxury Hand & Body Wash
Similar to the Seychelles scent, escape to paradise. This stunning fragrance combines fresh bergamot, bright orange and rich amber with warming notes of exotic coconut, vanilla and almond.
Our refreshing hand and body wash gently cleanses and deliciously scents your skin, leaving you with a beautiful soft glow and a remarkable fragrance.
Perfectly decanted into 500ml amber bottles with black pump lids, these will lend themselves to any environment in your home.