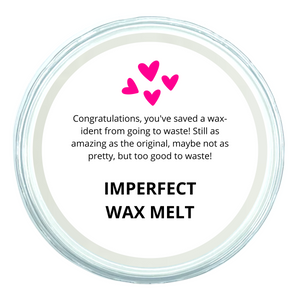 Imperfect Wax Melt
We're making more wax melts than ever, as they're handmade, and we're human it is only natural that mistakes can happen. As we strive to be a sustainable business we want to reduce our wasteage as much as possible.
We're giving you the opportunity to purchase our 'not quite perfect' wax at a discounted rate. You'll enjoy all of the great fragrance which is jam packed into our melts normally, with minor visual imperfections.
Imperfections may include, but are not limited to:
Under/over poured
Incorrect colour
Cracks or blemishes
Discolouration
3D melt parts
Discontinued fragrances
Non-ranged fragrances

Please note that all fragrances are varied, and this should be treat as a 'lucky dip'. If placing a order for multiples, it is possible you may get duplicates of fragrances, however when we are picking your order we will try and avoid this.
The image shown may not always necessarily be a representation of the product you receive. Our imperfects are varied in style and may be in a typical pot or a cellophane bag.
Imperfects are non returnable.