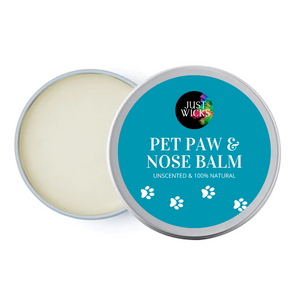 Pet Paw & Nose Balm
Indulge your pets in the best pedicure around, our Paw & Nose Balm is hand blended in South Yorkshire with 100% natural ingredients. They're are designed to beautifully nourish your pets paws and nose without feeling oily.
Made from Coconut Oil and Shea Butter which are natural moisturisers, White Beeswax adds a softening edge, finishing with Almond Oil & Vitamin E these are packed full of powerful proteins and vitamins for softening, conditioning, soothing and repairing! 
Simply apply a small amount on your index finger and massage gently into paws, or apply a thin layer to the nose. As the product is unscented and made from natural ingredients it is completely lick proof! 
Supplied in 30ml tins - the perfect size to drop in your bag or take on your travels!